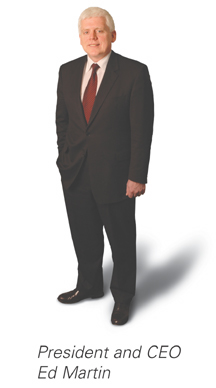 June 4 to 10, 2006, marks the start of Environment Week, and at Hydro we are proud to highlight our accomplishments and focus on our environmental efforts through the release of our annual Environmental Performance Report and other Environment Week activities.
We have a collective responsibility as Newfoundlanders and Labradorians to conduct ourselves in an environmentally sustainable manner and to do all we can to take care of the resources and environment entrusted to us. For Hydro, and everyone who works here, Environment Week is a celebration; yet the remaining 51 weeks of the year are equally important in terms of our environmental commitment and responsibilities.
Over the past year, we have spent considerable time refocusing the organization and its goals to closely align with our expanded mandate from our shareholder. While many of those goals focus on specific aspects of our business, one goal intersects and impacts our entire organization: To Be an Environmental Leader.
As a company and a member of the community we have a belief and a responsibility to protect the environment we live and work in. We will strengthen our commitment to protecting the environment and will focus on reducing emissions from our power generation activities. Our Environmental Management System and ISO 14001 certification are key components of this commitment and they will continue to be the cornerstone of our environmental work.
In pursuing new business opportunities, we are looking to clean, renewable sources of energy to meet our domestic and export requirements. For example, we are closely examining wind energy to assess how it can offset some of the thermal generation requirements of the Holyrood Thermal Generating Station. A request for proposals for the provision of 25 MW of cost-effective, wind energy for the island is currently in progress and will conclude late in 2006.
Increasing wind generation will increase our renewable energy capacity and potentially help reduce the requirement for fuel at our Holyrood plant and reduce associated emissions. But even before that happens, we are taking important steps to reduce sulphur emissions. In 2005, Hydro's Board of Directors approved the purchase of lower sulphur fuel, moving to one per cent sulphur content instead of the current two per cent. This switch will be completed mid-2006 and will reduce sulphur emissions by 50 per cent and particulate emissions by 40 per cent. It is one important step to ensure cleaner air for our neighbours near the Holyrood plant.
We have also been tasked to lead the development of the lower Churchill resource. The capacity of the lower Churchill River to provide clean, renewable hydro electricity is tremendous. The requirement across Canada and throughout the United States for clean energy is an important factor in our current efforts.
We know we are doing important environmental work, and in 2005, those efforts were recognized externally as well. Hydro received several commendations for its Granite Canal Hydroelectric Development including the 2005 Outstanding Stewardship of America's Rivers Awards from the National Hydropower Association. The company was recognized for its Granite Canal Hydroelectric Development that balances electricity production with the protection of local fish species and their habitat. The facility also received the Ecologo™ Certification, which acknowledges that the electricity generated is renewable and has a low environmental impact. As well, Granite Canal Providing Fish Habitat and Renewable Generation was a feature article of the November 2005 issue of Hydro Review, the magazine of the North American hydroelectric industry.
I invite you to explore the various sections of this report to learn more about our community partnerships, how we work to preserve sensitive habitats and how we operate the fourth largest utility in Canada to have the least environmental impacts possible. Led by the outstanding efforts of our Environmental Services Department, and guided by our Environmental Management Systems, we will continue to improve our operations as we move forward with our expanded mandate.

Ed Martin
President and CEO