In 2000, the Hydro Group implemented an Environmental Site Assessment (ESA) Program to assess all properties we own or operate. The process that was adopted for the program is depicted in Figure 6.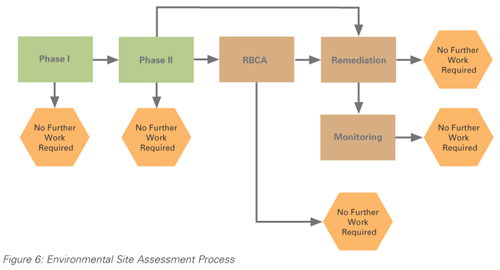 The objectives of the ESA program are to:
evaluate the potential for environmental contamination;
undertake sampling to characterize and delineate any contamination;
assess the potential risks and liabilities associated with any contamination identified;
identify sites requiring monitoring or remediation; and
develop and implement remediation programs when necessary.
Since the inception of the ESA program in 2000, the sites of all rural isolated generating sites have been assessed. These are the sites of the highest environmental risk based on the throughput of potential contaminants. The program will now focus on facilities with less hydrocarbon storage capacity and, therefore, potential risk such as terminal stations, material storage yards, and line depots.
Table 3 shows the ESA work that was accomplished in 2003 and future plans, if any, for the site.